Professional Solution
KEY36 is the perfect solution for professionals working with blue or green screen images. With KEY36, you'll have access to professional quality extractions from directly within Photoshop. Enjoy its magic! Chroma keying has never been so great!

 Enterprise Solution
If you extract more than 3,000 green screen images per year, then CloudKO is the perfect green screen software for your business! Our Enterprise Solution is designed to batch process images, allowing users to process 5,000-10,000 images per day.

GREEN SCREEN EXTRACTION SERVICE
36Pix Does the extraction for you! You are guaranteed to receive your images within 2 business days. 36Pix handles over 17 million images a year and makes sure that every one is keyed perfectly.
Find out if your camera and photo setups are optimized for chroma keying.
FREE EXTRACTIONS
Submit your green screen image for a free GSI Analyzer evaluation based on 7 key factors. 36Pix will send you a comprehensive report with detailed explanations.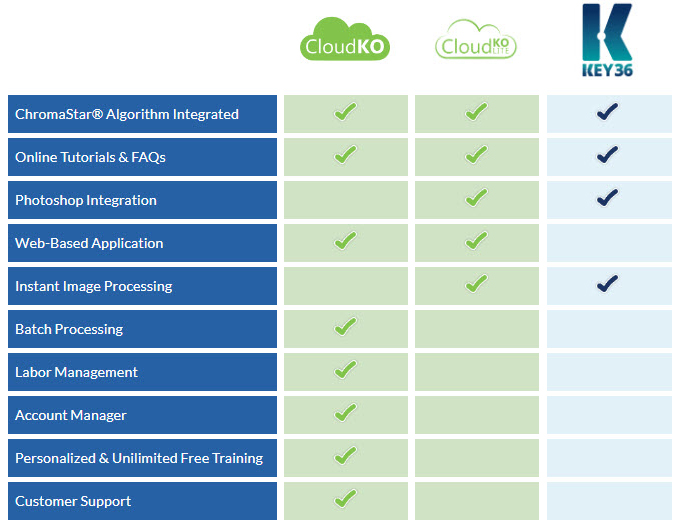 Find out which green screen software best suits your needs.
PROFESSIONAL OR ENTERPRISE?
36Pix is proud to launch KEY36, a chroma key plugin for Photoshop! KEY36 is designed to help you get a quick and high-quality extraction on the fly and CloudKO is perfect for batch processing and labor management.
---
What's happening in our Blog
Testimonials
We service customers from around the world. Our clients are our biggest supporters. Their satisfaction is our top priority. Here's what they have to say about us:
We were able to start using CloudKO® in just few hours. Not only does CloudKO® help us get our jobs done faster than ever - but the quality of our knockouts are amazing.

It wasn't until the fall of 2010 that I discovered 36Pix. This discovery has led me to open the doors to more work on green screen as I can now rely on consistent turnaround and quality knockouts.

Our clients have benefited from the world's leading Chroma key solution for Volume Photography since we partnered with 36Pix. Knowing the extraction will come back to us on time and looking perfect enables us to offer the best workflow solution for our customers.

36Pix is focused on 100% customer satisfaction. They are a reliable and trusted business partner. Working with 36Pix is simply easy, especially with the integration of Kodak's DP2 software.

36Pix allows us to keep up with our growing business in this fast-paced industry. Their knockout algorithm is terrific, whether you're sending images directly to them or using CloudKO®. The team at 36Pix is always responsive, supportive and helpful. As our company continues to expand, it can be increasingly challenging to staff for the volume of images we need to process. 36Pix allows us to simplify and streamline our knockouts process, so that we can utilize our resources better. 36Pix gives us a quick turnaround, and a better, more automated knockouts process with their Kodak DP2 integration. Thank you for the great service!

After researching all of our options, CloudKO® by 36Pix is hands down the best solution on the market. The speed and quality is unmatched.

We have tested every green screen application available. None of the in house options can match the quality of 36Pix. When you factor in cycle times, labor savings, outstanding service and nearly zero defects, the choice is clear!
36Pix provides intelligent technology to create perfect images